October 5th 2021
September 2021 Quarterly Newsletter - Political Developments, Friends of Science Society
The 26th annual Conference of Parties (COP26) under the UN Framework Convention on Climate Change(UNFCCC), having been re-scheduled from 2020 because of COVID, will take place in Glasgow from October 31 to November 12 of this year. The UK, as host for the event, is touting it as the "
world's best last chance to get runaway climate change under control.
" It has issued a document
COP26 Explained
describing what the COP is all about, in particular, the conference's four goals "What do we need to accomplish at COP26?" are:
Secure global net-zero by mid-century and keep 1.5 °C within reach. This means getting the 197 parties (196 states plus the EU) to the UNFCCC, or at least the major emitters, to submit ambitious 2030 emissions reduction targets (Nationally-Determined Contributions or NDCs) that align with reaching net zero by 2050. Under the Paris Agreement NDCs are to be updated in five-year cycles, with the first updates due for COP26.



Adapt to protect communities and natural habitats, denotes adapting to climate change and making infrastructure and agriculture more resilient.



Mobilize finance, especially the $100 billion/year in climate finance, that was promised at COP15 in Copenhagen in 2009 for 2020 from developed to developing countries but was never delivered. In addition, public and private financial institutions are expected to take climate into account in every decision to help transition to the net-zero economy.



Work together to deliver; finalize the Paris Rulebook, to implement the 2015 Paris Agreement, something that was supposed to happen at COP24 (Katowice, Poland) in 2018 then at COP25 (Madrid, Spain) in 2019. The Rulebook's purpose is to transform the relatively short Paris Agreement into concrete action around the world. The rules would include specifying how countries plan and implement their NDCs, track and mobilize finance, enhance transparency, and would hold countries accountable for their commitments.


On September 16, the UN issued its
United in Science 2021 report
, a collaborative effort by the World Meteorological Organization, the UN Environment Program, the World Health Organization, the Intergovernmental Panel on Climate Change(IPCC), Global Carbon Project, the World Climate Research Program, and the UK Met Office.
These agencies summarized their various messages of urgency and impending disaster into the segmented wheel diagram shown opposite. UN Secretary-General António Guterres added a warning that this report "… is an alarming appraisal of just how far off course we are … Unless there are immediate, rapid and large-scale reductions in greenhouse gas emissions, limiting warming to 1.5 °C will be impossible, with catastrophic consequences for people and the planet on which we depend."
Not everyone is eager for COP26 to proceed as planned. Climate Action Network International (CAN), which
describes itself
as "the world's largest environmental network of over 1,500 non-governmental organizations in over 130 countries fighting the climate crisis", issued a
press release
on September 7 calling for COP26 to be postponed. CAN claims that a safe, inclusive, and just global climate conference is impossible, due to the COVID pandemic. This means excluding government delegates, civil society campaigners, and journalists from Global South countries that are on the UK's Covid19 "
red list
." CAN states that its call to postpone COP26 in no way implies postponement of urgent climate action or a boycott of the climate talks, and it promises to continue to hold accountable "those in power" for their efforts to avert the "worst of the climate crisis." In response, COP26 President, Alok Sharma
pushed back
, saying that the IPCC's latest assessment report "underlines why COP26 must go ahead this November."
Achieving Goal 1 for the COP depends on all countries' NDCs. However, China and India (first and third among global emitters), as well as 85 other countries
failed to submit
new or updated NDCs by the July 31 deadline as required under the Paris Agreement. As of September 17, only 59% of parties to the Paris Agreement, representing 49% of global emissions
had submitted
new or updated NDCs. The NDCs submitted so far imply a 16% rise in global emissions by 2030, compared to 2010, and (according to the IPCC) a temperature rise of 2.7 °C by the end of the century.
To get China to cooperate ahead of COP26, US climate envoy John Kerry met virtually on September 1 with China's foreign minister Wang Yi in Tianjin. There, he
was told
that prolonged tensions between the world's two major powers make it difficult for them to work together on climate. These tensions include alleged human rights abuses in Xinjiang, the crackdown on freedoms in Hong Kong, and security challenges to Taiwan and in the South China Sea. A
problem
for Mr. Kerry is that, following the humiliating US withdrawal from Afghanistan, President Joe Biden and his climate envoy look rather weak. China's state-run Global Times thought it "
absurd
" that the Biden administration is trying to look righteous and reasonable by separating cooperation on the climate issue from the entire China-US relationship. On September 21 China's top climate negotiator said that Beijing would
release
its updated plans "in the near future", potentially before COP26. However, China is reluctant to change the Paris Agreement target of 2 °C to 1.5 °C, though it
will no longer fund
coal-fired power plants abroad,it will continue constructing them at home and thus be able to produce and export wind and solar equipment more cheaply than most OECD nations.
For developing nations defining what adaptation (Goal 2) looks like remains "
unacceptably vague
" as there is no universal metric to assess resilience to climate impacts. Therefore in July, a group of 100+ nations most vulnerable to climate impacts
published
a plan that is strong on easy-to-measure finance, including loss & damage reparations. The resulting document,
A Five-Point Plan for Solidarity, Fairness, and Prosperity
, lays out "five areas in which all governments, especially those of nations that became prosperous through the untrammeled burning of fossil fuels, need to deliver on their promises before and during COP26":
Cutting emissions consistent with the 1.5 °C goal, "led by those with the biggest responsibility and capacity."


Adaptation, with financial help to the most vulnerable.


Loss and damage for the developed world's historical failure to cut their emissions adequately.


Finance, including at least $100 billion/year up to 2024 and more thereafter, with half of the funds going to adaptation.


Implementation of rules for transparency, carbon trading, and common timeframes for accelerating action.


For the first point, cutting emissions, the five-point plan selected five rich countries plus the EU to implement "fair shares accounting in order to take adequate responsibility for creating the climate crisis" as follows:

Regarding point 3, on September 16, the UN Secretary-General
said
: "I believe that we are at risk of not having a success in COP26. There is still a level of mistrust, between north and south, developed and developing countries, that needs to be overcome." On September 21, a "frustrated" Boris Johnson used his speech at the UN General Assembly to
blast developed nations
for lagging on the $100 billion/year in climate finance to developing countries. In his speech to the General Assembly, US President Joe Biden
announced
a doubling of his country's climate finance to $11 billion/year by 2024 (subject to Congressional approval). At COP26 poor countries will not only want assurance that the $100 billion/year target will be fulfilled, but will also expect the start of negotiations on a new finance regime for 2025. According to the OECD, climate finance
reached
$80 billion in 2019 (2020 data won't be available until 2022).
A big sticking point at COP26 will be
carbon trading
(point 4) and its associated rules. These are crucial because carbon trading is the only form of commodity trading where it is impossible to establish with reasonable accuracy how much is being bought and sold, where the commodity traded is invisible, and where both parties benefit if the quantities traded are exaggerated. It is thus an open invitation to fraud. However, if the alternative means that planes stop flying and ships stop sailing, as the radical alarmists want, then paying untold billions in fraudulent indulgences may be worthwhile.
The prospects for a successful COP26 appear dim, due to the following issues:
Too many countries failed to submit new and more ambitious NDCs as required under the Paris Agreement, including the number one and three emitters: China and India.


The conference will again feature irreconcilable differences between developing and developed countries over finance, loss & damage reparations, difficulties attending the COP, and the Paris rulebook.


The host country is bracing for a "winter of discontent" over motor fuel shortages threatening food supply, soaring natural gas and electricity prices as energy companies collapse, wind power failure, and an antigreen backlash that is reshaping British politics. The Prime Minister, Boris Johnson, is facing a rebellion of his own party's MPs who are warning of electoral defeat over his government's climate policies.


The European Union is becoming disunited as member countries struggle to agree on a negotiating position, with unanimous consent, regarding five or ten year periods for ratcheting up NDCs. Across the EU protests are erupting over increasing energy bills.


Article by Ian Cameron Director, Friends of Science
Friends of Science Quarterly Newsletter - September 2021
Friends of Science
https://friendsofscience.org/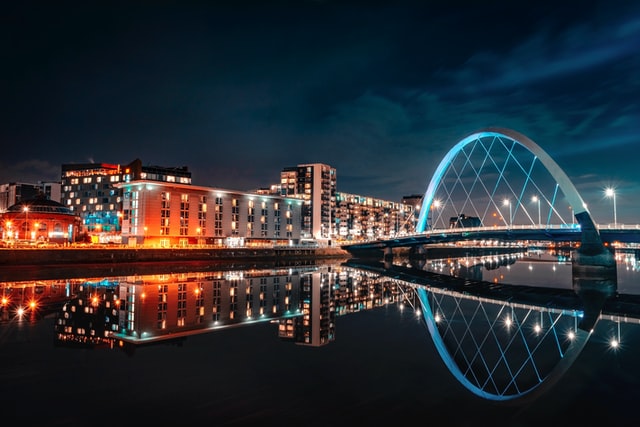 Photo by Craig McKay on Unsplash